The Suffield Board of Trustees met on Tuesday October 23rd before four Suffield residents. Scott McBroom gave the Road Department report in which he said that the crew has been busy for the past month doing lots to wrap up the summer work and prepare for the winter months. Included was hauling grit, painting the truck's frames, painting new stop bars at intersections and preparing to buy and receive winter salt.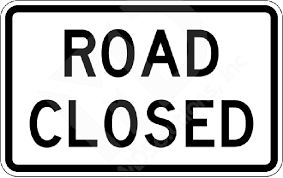 McBroom also said that the Henry Luli Construction Company was planning on closing Palm Road near the Mogadore Reservoir to first drain away the water near the existing culvert and then to installed a new and better situated culvert. Unless weather causes a delay, Palm Road will be closed to all traffic from Friday October 26th until Tuesday October 30th. (Editor's note: Road work completed on Thursday November 1st. Road re-opened) McBroom also said that the boat ramp on Lanzinger Road is now permanently closed. In its place there is a new ramp at the old campgrounds on Ticknor Road.
Trustee Jeff Eldreth read a letter from the Franklin Township trustees in which they expressed their appreciation to our trustee Tom Calcei for his leadership in resolving the recent division of Local Government Funds issue. Trustee Jared Phillip congratulated the Field Falcons football team in their recent 38-20 win over the Springfield Spartans on October 12th. The win ended Field's 18-game losing streak. He also mentioned the Falcons loss last week when a two conversion, that would have tied the game against Cloverleaf, was short by literally two inches. Even with their losses this year, the Falcons are clearly a much improved team. Phillip also said that a representative of the Testa Companies plans to be at the next trustee meeting. This is to discuss annexing some property from Suffield to Mogadore as part of the development plans for the old West Country Club.
Jeff Eldreth said that there have been some break-ins in the Suffield area, including a B&E of the storage shed at the baseball fields. He suggested that residents be aware of this and take precautions to lock doors and windows. Jared Phillip said that Field Local Schools Superintendent David Heflinger is holding public meetings called "Questions and Coffee with the Superintendent". They will be held at Suffeld Elementary on October 24th from 8:45 until 10:00 AM, at the Middle School on October 26th from 7:45 until 9:00 AM, at the High School on October 29th from 7:45 until 9:00 AM and at McDonalds in Brimfield on November 1st from 8:30 until 9:30 AM.
The trustees changed the date of their next meeting. The Trustees next meet on Monday November 12th at 8:30 PM. The Zoning Commission meets on Wednesday November 14th at 7:00 PM. There are no Board of Zoning Appeals hearings scheduled as of this date. One other calendar item is the Lions Club's Candidates Night, which is Thursday October 25th. Meet and greet will begin at 6:00 PM and presentations will begin at 7:00 PM. This event will be held in the cafeteria of the Middle School. And don't forget to have a supply of candy for this coming weekend as Suffield's Trick or Treat will be held on Sunday October 28th from 2:00 PM until 4:00 PM.